Since 2013, Silver Economy Expo has been presenting and promoting the sector's ever-growing offerings, and has become an annual meeting-point in France. In the space of 2 days, exhibitors enjoy multiple opportunities to meet the sector's health prescribers and players.
BOOST YOUR BUSINESS, VISIBILITY AND Build new relationships
Whether you are a public or private sector player, a large group, a small business or a start-up, and at whatever stage of development your senior sector offering is, at Silver Economy Expo, you will find business opportunities, get to meet other businesses or potential clients and enjoy more visibility.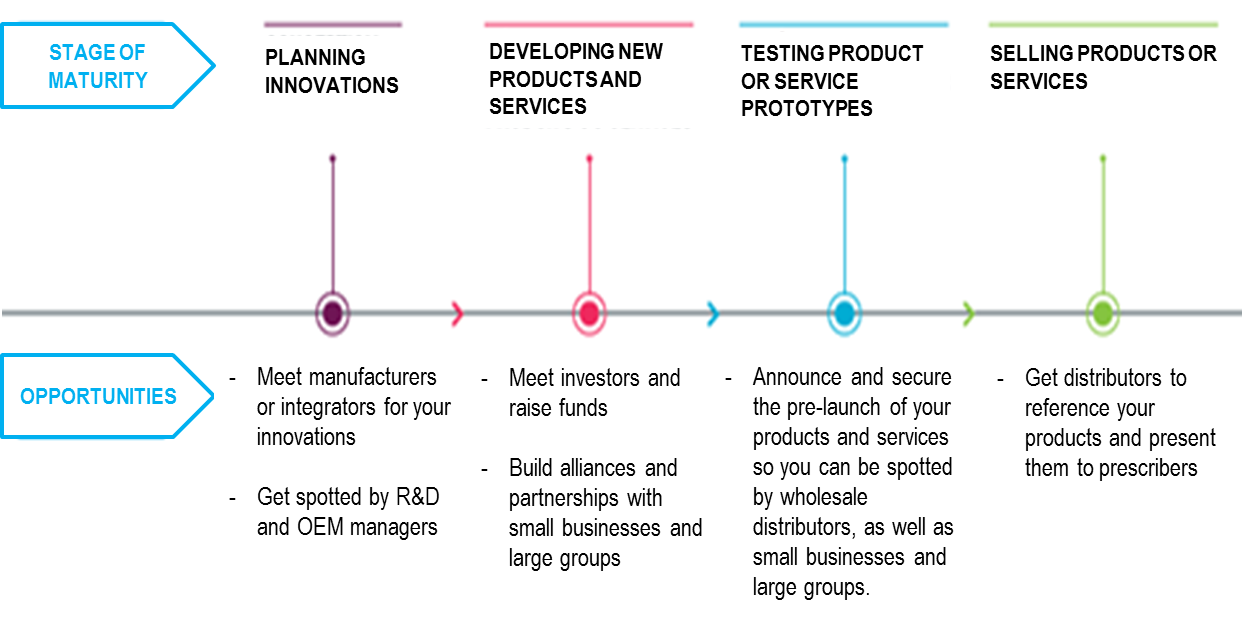 At Silver Economy Expo you get to meet in a short space of time professionals from the sector, health prescribers and distributors.
WHY EXHIBIT?
By presenting your products, services, experience and innovations, you will be a great help to all the players involved with senior citizens, notably the most fragile among them, the dependents and their carers. Help them in their mission of advice, orientation, prescriptions, and sale of solutions adapted to the senior's specific needs.
Develop your business
Meet clients and partners, prescribers and final recipients
Expand your market access
Find financial solutions
Gain more visibility
Promote your business and solutions
Share the outcomes of your research and experience
Pre-launch and get your products referenced
Help shape the sector
Exchange ideas with the ecosystem
Share your experience
Your presence will add visibility to the sector
ONE EVENT TO FOSTER SYNERGIES
Silver Economy Expo takes place on the same dates and in the same hall – one of manageable size – as the Salon des services à la personne et de l'emploi à domicile, 'Individual and Family Services Trade Show'.
Services to the individuals play a key role in helping the ageing population stay at home as long as possible.