Players of the public, private and association sectors and all the visitors get truly involved in Silver Economy expo. They all work directly or indirectly with senior citizens, notably the most fragile among them, the dependents and their carers. Their common goal is to offer a better response to seniors' needs and expectations.
__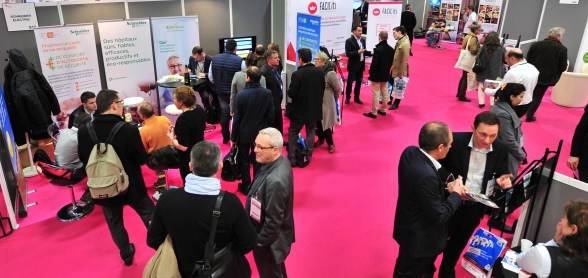 VISITORS ATTENTIVE TO YOUR SOLUTIONS
__
People who visit to Silver Economy expo are looking for solutions to enhance senior citizens' well-being, reduce their loss of autonomy, contribute to maintaining their social interactions and mobility, offer more comfort, security and home help, adapt their home or provide assistance in their hospitality structure.
They attend Silver Economy Expo:
Prescribers:
Governmental bodies in charge of solidarity and autonomy in local and regional councils (DGA), directors of local information and coordination centres (CLIC and MDA), city mayors and local social affairs councillors (CCAS)
Directors and decision makers of senior retirement and nursing homes …
Professionals of the medical, paramedical, socio-medical and pharmaceutics sectors
Providers of services to the individuals
Housing specialists (home adaptation, developers, builders, architects, urban planners, tradesmen…)
Pension/retirement institutions, complimentary health insurance firms, insurance companies, disability coverage funds, banks…
To:
> To find out which mature solutions are already available on the market:
integrate them immediately in their service package to senior citizens
prescribe them to senior citizens and their family
.
.
.
.
> To find out which mature solutions and upcoming innovations can be integrated in service packages immediately or in the future.

Distributors: Franchisors, cooperatives, medium and large commercial outlets and hypermarkets, e-traders…
To detect the solutions they can include in their offer
To get a better understanding of senior citizens' customer path

Marketing, commercial, design, trade and R&D directors and managers of large and small firms
To get a better understanding of senior citizens' expectations and of present trends to conceive adapted solutions

Networks & investors:
To finance the sector's innovative projects

Start-ups:
To find financial solutions
To develop contacts
FEEDBACK ON 2022: ENGAGED AND QUALIFIED VISITORS
__
Qualified professionals
__
__
Engaged during their visit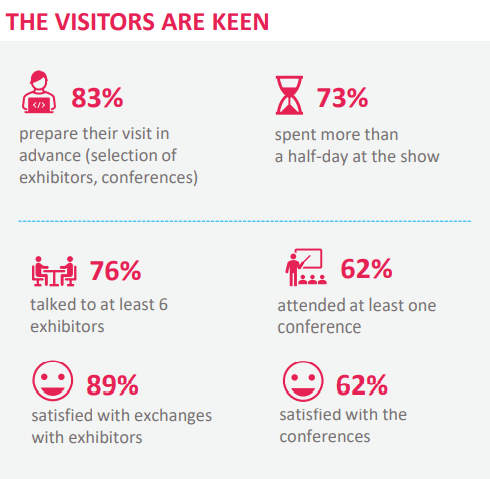 See visitors' complete profiles
Source: visitors & visitors base survey 2022
__