BACK ON SILVER ECONOMY EXPO 7th EDITION
The french largest gathering of start-ups and innovation for seniors.
Experts in the field are constantly creating and experimenting and coming up with new solutions which help seniors best manage the ageing process and which deal with the economic challenges and creation of new jobs that come with an ageing population. At Silver Economy Expo visitors have a unique opportunity to view the biggest collection of innovations gathered together in one place.
THE SECTOR'S TOP EXPERTS HERE TO MEET YOU
__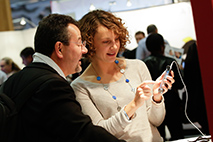 Exhibitors display their new ideas and innovation
Products and services for hospitals and retirement homes, home improvement, personal assistance, financing solutions, marketing and design consultants, help in setting up, financing, innovating or developing businesses, sales networks…
See our list of exhibitors 2019
40 conferences and 60 speakers
__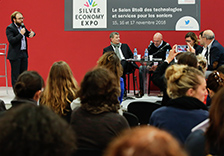 You missed our conferences?
Podcasts of all our conferences are available on replay all year round. An opportunity to benefit from the latest and most relevant analyses of our speakers and review the challenges and perspectives of this sector.
Conferences on replay here (French version only)
NOTABLE VISITORS OF 2019 
__
Xavier Bertrand
President of the Conseil regional of Hauts-de-France.
Brigitte Bourguignon
MP for Pas-De-Calais, President of the Social Affairs Commission.
Galla Bridier
Deputy Mayor of Paris with responsibility for seniors and autonomy.
Audrey Dufeu-Schubert
MP for Loire Atlantique - member of the Social Affairs Commission.
Pascale Fontenel-Personne
MP for Sarthe, campaigner for pension reform.
Monique Iborra
MP for Haute-Garonne, Vice-president of the Social Affairs Commission at the Assembly.
Christophe Itier
High Commissioner for Social and Solidarity Economy.
Françoise Jeanson
Vice-president of Nouvelle-Aquitaine.
Dominique Libault
Leader of the consultation on ageing and autonomy.
Marie-Anne Montchamp
President of the CNSA
Cendra Motin
MP for Isère, member of the Economic Affairs Commission.
François Ruffin
MP for Somme - Co-rapporteur of the information mission relating to home care services.
Annie Vidal
MP for Seine-Maritime
Stéphane Viry
MP for Vosges, member of the Social Affairs Commission